University of Pennsylvania's 'Hey Day' hazing ritual
Administrators at the University of Pennsylvania had taken steps to quell what they say was a menacing turn in the school's "Hey Day" ritual, scheduled for this afternoon, in which juniors are pelted with ketchup, fish, and other gross and potentially hazardous foodstuffs by graduating seniors.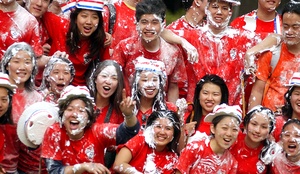 Administrators have threatened to cancel the Senior Week class trip to Atlantic City - and the decades-old Hey Day tradition itself - if there is a repeat of last spring's revelry, in which a student hit with eggs was reportedly hospitalized.

Seniors are being asked to sign an anti-hazing pledge before taking part in the celebration, in which juniors parade to College Hall to be declared seniors and then pass through the graduating seniors' gauntlet. Marshmallows and streamers, the only acceptable projectiles this year, are to be passed out at a newly organized pre-march barbecue for seniors. Full article here.
Labels: Offbeat news